I have been on some sort of crazed reading frenzy so if you do not want to read a long blog post about books, come back after the weekend when there will be knitting again :)
11 books already this month and still another week or so to go. At this rate I will have no trouble making 52 in 52 - though I do not want to say this too loud for fear of jinxing myself!
The best so far this month:
Room by Emma Donaghue
Room is the type of book you will either love or hate.
The narrator is a 5yo boy called Jack who lives with his mother in "Room" - an 11x11 prison, but for Jack it is all he has ever known, until something happens and Jack discovers there is a whole new (confusing) world out there.
At times the voice is annoying and being the mother of a 5yo, I also found it a little obnoxious and unrealistic in places. However the strength of this story is Ma's love for Jack - the sacrifices she makes for him, and her struggles to do her best despite the awful circumstances they find themselves in.
At times, Jack's innocence makes the disturbing premise of the book even more haunting, but it is also a story of hope. Very touching and like so many other readers, it had me looking at the world with new eyes. I read this is under 24hours which should speak for itself.
People of the Book by Geraldine Brooks.
I listened to Brooks' Year of Wonders last year and was excited to make a start on another of her novels. People of the Book is an epic story that spans 500years. It isn't a light or quick read/listen but one I think that will stay with me for a long time. When I read, I read fast. Sometimes, too fast. My mental images are often a little blurry, details I have skimmed too quickly get lost. The thing I enjoy most about audio books is that they force me to slow down - the resulting images are stronger, I remember more details, and everything is a little clearer. For that reason, I'm really pleased I listened to, rather than read, this one.
The book follows the story of a Jewish Haggadah (prayer book - as pictured) over five centuries. Cleverly, Brooks breaks up the historical weight by using a modern day narrator - a delightfully Aussie woman called Hanna who restores and researches ancient manuscripts. When she is chosen to work on the Haggadah she finds some interesting historical 'footprints' on the parchment - a wine stain, a grain of salt. Brooks then takes us back in time ; we see how the Haggadah came to collect these memories of times past - how it survived several wars - hidden from the Nazi's, saved from the bombs in Sarajevo - how it survived the Spanish Inquisition, and in a perfect climax how it came to be made.
The research that must have gone into this book is awe inspiring and at times, there is a feeling that it could almost be a treatise on anti-semitism, however, I think it is possible to turn off the inner cynic and just enjoy the rich history that Brooks has created.
The audio version I listened to had an awesome authentic Aussie as a narrator and whilst it was the history that I enjoyed most, I also really enjoyed Hana's story - her journey of self-discovery and the relationships with her mother and with the mysterious and broken Ozren who she meets in Sarajevo. 5/5 for me.
The Painted Man by Peter Brett.
A rich fantasy novel that came highly recommended by members of my family. After reading lots of urban and YA fantasy novels it was great to read something where the characters are fleshed out a little more and the universe is more fully explored. The story follows 3 main characters in a world where demons rise from the Earth's core every night to feast on humans. Every community deals with the cloying oppression in different ways and each character has their own journey to become, near the end of the book, strong enough to face their fears. Another "couldn't put it down" - if you enjoy a good fantasy read then I can't recommend this one highly enough.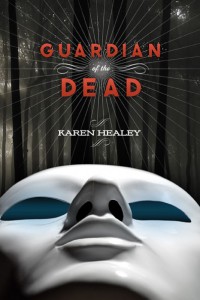 Guardian of the Dead by Karen Healey
was recommended on a book club group on Ravelry.
It is YA, set in Christchurch, and is excellent.
How wonderful to read an urban fantasy set on the very streets I live in, to read about the University where I spent some of the best years of my life and recognize the descriptions of the theatre, the pub, the library. It made me realize how almost numb I have become to the US setting - cities and states I will probably never get to see, and to say I was excited to read a New Zealand setting would be a bit of an understatement.
On the face of it this could be any YA novel - heroine who doesn't think she's pretty, boarding school, boy of the best mate variety, mysterious possible love interest, good vs evil....but Guardian of the Dead doesn't make any of these things feel like a cliche. The elements are there but at no point did they go over a line where I'd felt like I'd read it a hundred times before.
The story is rich in Maori mythology and Healey bravely uses traditional myths and legends in a contemporary setting to create a truly spooky novel where the bad guys creep out of the mists in Riccarton Bush, and taniwhas swim up the Avon River. I borrowed this from the library but enjoyed it so much I will be buying a copy for our ever expanding YA collection of books. An excellent New Zealand novel.
In a few words....
The Last Survivor's Series by Susan Beth Pfeffer
is comprised of three books - Life as We Knew It, The Dead & The Gone, This World we Live In. The premise of this YA series is that a meteor hits the moon, pushing it off orbit resulting in a series of catastrophic natural disasters. They are harrowing reads at times and if you are at all worried about 'end of the world' type scenarios these books will have you checking your food stores and stashing disaster kits. After the earthquake here last year we had a small taste of the panic buying, power outage, boil your drinking water type scenarios so the idea of a global scale event was pretty horrifying. Whilst the writing might not be the best I've ever read these books certainly gave me much to think about.
Last night I finished The Book Thief by Marcus Zusak. I need a little more time to digest that one and come up with coherent thoughts so more on that at the end of the month.
So far in 2011 - 19 books , 36% of my goal. What have you read this month?